Back to all posts
Posted on
CCHS Student Bringing Disc Golf to the Crowsnest Pass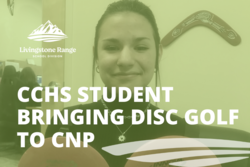 What started out as a class assignment for Crowsnest Consolidated High School Grade 8 student Jorja Moses has resulted in the Crowsnest Pass getting their first disc golf course.
"Last semester we were asked to work on a project that would be a benefit for our community," says Jorja. "I decided to combine this with my passion for disc golf to try and get a course for the Crowsnest Pass."
Jorja, who has been playing disc golf for about a year, enjoys playing with her sister, her sister's fiancé, and other friends. But with the nearest courses in Lundbreck, Pincher Creek, and Fernie, it's not very convenient for this young student to play. 
All on her own, Jorja applied for a $2,000 grant through the Lethbridge Southwest Alberta Community Foundation. Her grant was approved and she will be working with the local municipality to develop a disc golf course behind CCHS that will be available to anyone. 
As part of Livingstone Range School Divison's Student Success Plan 2021-2024, students have local community service opportunities, explore areas of interest, and are invited to become respectful, caring, and productive citizens. This disc golf course initiative — stemming from a school project — is a wonderful example of student success.
"We hope to have the course ready by the end of summer," says Jorja. "The grant money will go toward baskets for the course but we need $5,000 total, so we will be doing more fundraising." 
Anyone interested in contributing to the Crowsnest Pass disc golf course can contact the Municipality of the Crowsnest Pass for details.